---
The Best Currency Exchange Stores In Tokyo
---
When you travel abroad, using a good currency exchange store is very important indeed. If there are 5-yen difference per dollar and if you exchange $2,000, you can gain or lose 10,000 yen which is equivalent to 3 sets of sushi in Tsukiji for lunch... Most importantly, you can rest assured that you're traveling wisely by using good currency exchange stores! However, finding a good one is extremely difficult in Tokyo. Here, as a tour guide for overseas travelers(mostly solo or small groups less than 4 people), let me give you my information on best currency exchange stores in Tokyo(I chose them based on easy accessibility and availability with a small amount of money).
---
1. Interbank (in Akihabara)
---
Interbank currency exchange in Akihabara, aka Ninja Money Exchange, is without a doubt the best currency exchange in Tokyo. It's one of the best information I've got as a tour guide and always recommend this store to my guests, friends and family members. It had been temporarily closed from July to August, but it reopened from September 2018! You can check the rates and make an appointment on their website(reservation is required). 
---
After getting off at JR Akihabara Station Central exit, look to the left and you will see Yodobashi Akiba, the biggest electronic store in Tokyo. Walk across the traffic light that leads to the entrance of Yodobashi Akiba. Then turn left(not entering Yodobashi Akiba!) and walk straight. Walk across the traffic light and turn right. You will see Katsuya(かつや, a pork cutlet chain restaurant). There's a door next to the restaurant. Open it and go upstairs. On 2F, you will see an elevator. Use that elevator to 4F, where Interbank is located(you will see the sign on the door). It's difficult to navigate, but I'm sure you'll get a sense of accomplishment by using the best rate in the hidden gem!! 
---
Address: 7 Kanda Matsunagacho, Chiyoda-ku, Tokyo
Website: http://www.interbank.co.jp/ninja/
---
---
2. Shinjuku Station West Exit (Omoideyokocho)
---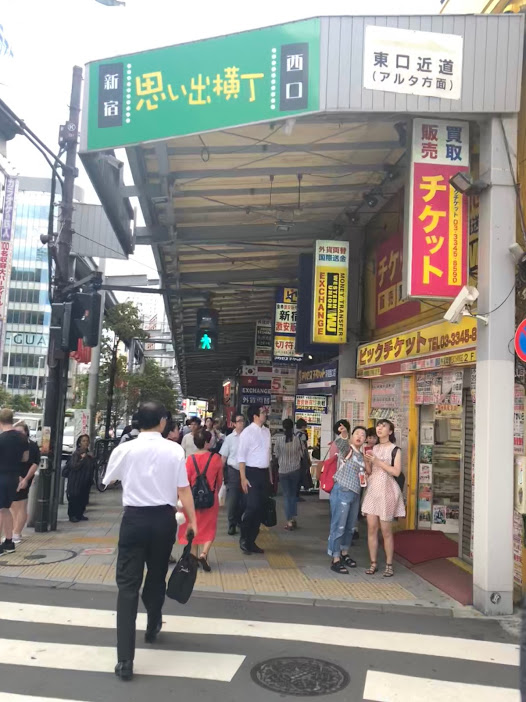 ---
Omoideyokocho is a popular yokocho, an alley with small Japanese bars, at Shinjuku station west exit. It's also famous for having many ticket brokers that sell discounted tickets. Most of them also offers currency exchange services. They're competing each other and you can find one of the best rates in Tokyo here!
---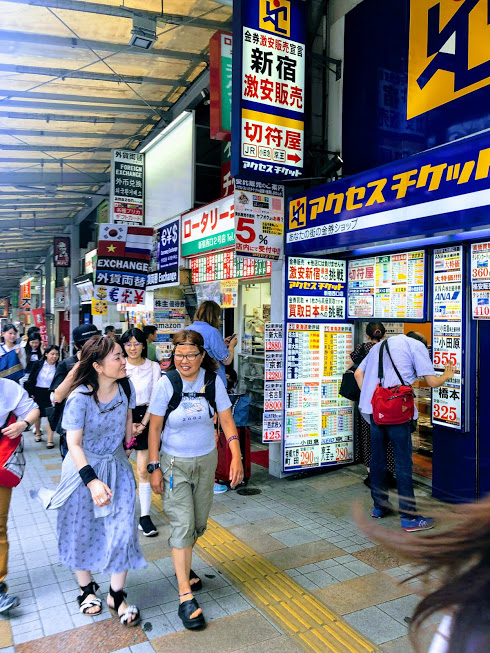 ---
I often go there to exchange US dollars to Japanese yen and often end up exchanging at Daikokuya(below) because they usually have the best rate. But because it changes everyday, I recommend you check all the ticket brokers and find the best rate by yourself!
---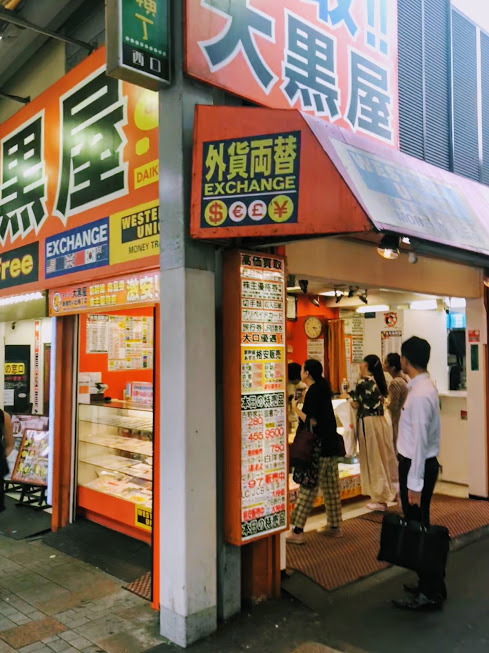 ---
How to get there
From Shinjuku station, it's quite easy to reach there. At JR Shinjuku station west exit, turn right and keep walking straight. After crossing one intersection, you will see the sign of Omoideyokocho as shown is the first picture. If you think you get lost, google map "1-2-9 Nishishinjuku" 
---
---
3. Sakura Exchange Shibuya
---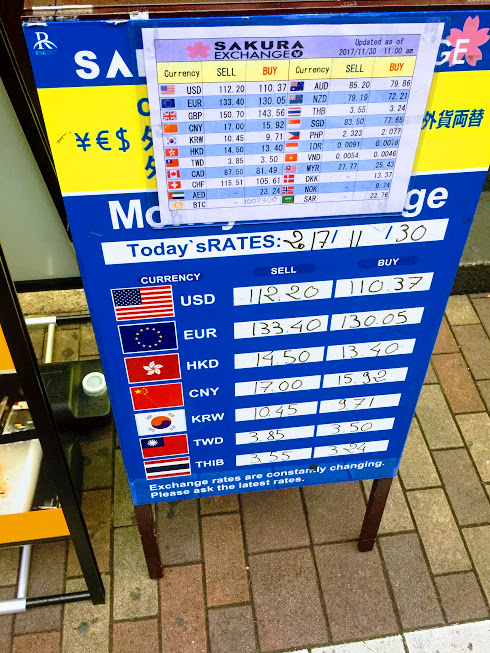 ---
Sakura Exchange in Shibuya is one of the best currency exchange stores because of its great(most of the time) rates, easy access from Shibuya station and friendliness of the staffs. They are part-time workers and mostly international students from overseas, so I'm sure you can feel at home! They have many branches near major stations in Tokyo. Please be notified that some other stores are not punctual and very difficult to find. I've been to Sakura Exchange in Ueno many times but most of the times they were closed. But when I use Sakura Exchange in Shibuya, they are always open and in most of the times a staff is standing with a board describing today's rates!
---
How to get there
After getting off at JR Shibuya station Hachiko Entrance, you will see the busiest intersection in the world, Shibuya Crossing. When everyone starts to move, cross it in the direction of Dogenzaka Street(you will see the sign of "UC" in that direction). Then keep walking without crossing the next intersection(you will be at Bunkanura Street). After seeing the sign of "Softbank" at the Softbank building, turn right(usually a staff is standing there with information on today's rates).
---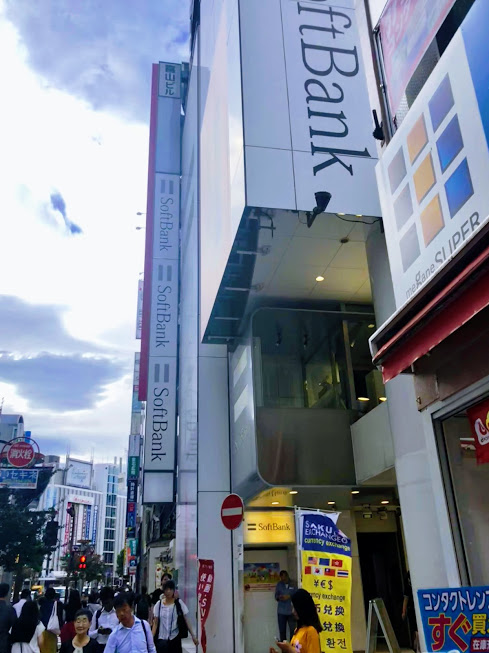 ---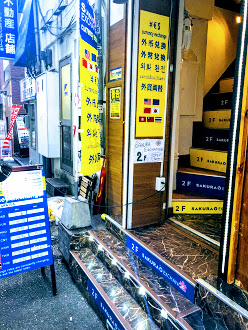 Go upstairs and it's on the 2nd floor!
---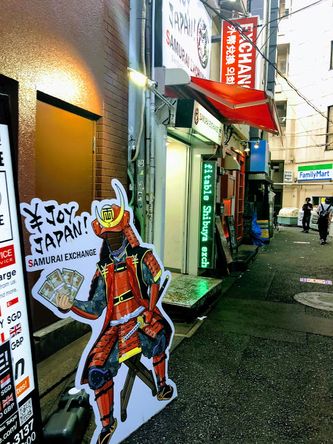 On the next block, there is a their competitor Samurai Exchange. Also an awesome currency exchange store and I recommend you check their rates because sometimes they have better rates.
---
Address: 26-6 Udagawacho
Website: https://www.sakuraexchange.jp
---
---
On this Article, I introduced some best currency exchange stores in Tokyo in terms of accessibility and its ease of use. If you hire me as your private guide, I can take you to these stores in the most efficient manner:)
Koichiro Kimura(Licensed National Tour Guide, 9/11/2018)